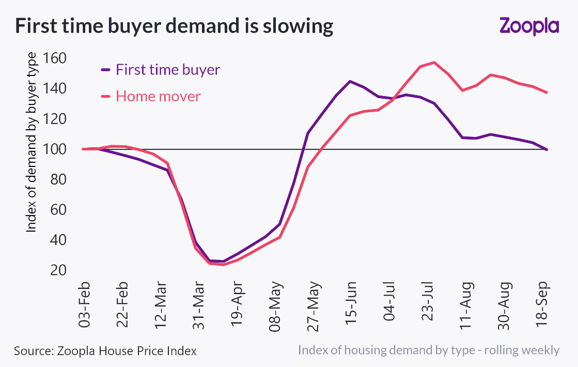 The Zoopla UK House Price Index Report is a monthly analysis of UK property market data, and annual price growth statistics from 20 UK cities.
This month's report features exclusive insight on the year-to-date growth in new sales (compared to the same period in 2019), the ongoing housing supply/demand imbalance and the effect further COVID-19 restrictions will have on demand.
The report finds that First-time buyers have long been the engine of the housing market. However, the current growth in demand from existing homeowners will shift the market focus. It is felt that First-time buyers are losing out as lenders have started to drop high LTV mortgages which is causing difficulty for FTB's to get onto the property ladder.
Houses with more space outside of big cities are growing in popularity. This trend is likely to continue if homeowners end up spending more of the winter in their current homes due to tightening restrictions of COVID-19. Folkestone is becoming a destination for outward investment due to the office market in London having a downturn and subsequent employers being more flexible with homeworking and easy access to London St Pancras via HS1 in under 1 hour.
Full Report here: https://advantage.zpg.co.uk/house-price-index-report?member=true&utm_source=zoopla&utm_medium=trade-email&utm_campaign=house-price-index